State College Business Law Lawyer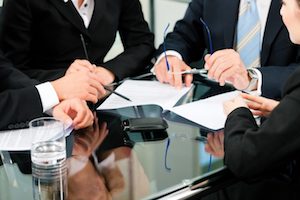 Running a business can be a complex and challenging endeavor. With a myriad of laws and regulations that must be followed, it's crucial to have legal guidance to help navigate the complexities of running a business. At the Nittany Group, we provide comprehensive legal services for businesses of all sizes and types.
We understand that your time is valuable, and as a business owner, you want to focus on growing your business rather than dealing with legal compliance issues. That's why we strive to provide our clients with fast and easy compliance with the laws and regulations of our Commonwealth, so you can focus your attention where it's needed most – on your business.
Our experienced team of attorneys can assist you with a variety of corporate law matters, including business formation, corporate document drafting, and business contracts. Whether you're just starting a business or need assistance with ongoing legal issues, we're here to help.
We can help you with business formation matters such as creating corporations, S-corporations, non-profit corporations, limited liability companies, partnerships, and fictitious names. We can also assist you in drafting important corporate documents such as articles of incorporation, bylaws, operating agreements, partnership agreements, and non-compete agreements.
At the Nittany Group, we understand the importance of well-written business contracts. Whether you're entering into a purchase agreement, a service provider agreement, or an employee agreement, having a well-drafted contract can be the difference between successful business dealings and disputes. Our attorneys can assist you with all aspects of contractual services, including contract negotiation, contract drafting, and contract review.
If you have any questions about our business law services, please check out our Frequently Asked Business Law Questions page. If you're ready to schedule a consultation, please contact us at attorneys@nittanygroup.com or call us at (814) 826-2244. We're located at 2437 Commercial Blvd, Suite 240, State College, PA 16801. Let us help you navigate the legal complexities of running a successful business.
Client Reviews
Fill out the contact form or call us at (814) 826-2244 to schedule your consultation.